Kicozo, the Knowledge Institute for Integrative & Complementary (Nursing) Care is the largest school in complementary care / therapies for professionals in health care (facilities) in The Netherlands and beyond. It was founded by former nurse Madeleine Kerkhof in 2010, originating in De Levensboom (1998). This is her BIO.
Madeleine Kerkhof, RNret, CA, AED, MT, ACS.
Madeleine is founder, CEO and senior educator of Kicozo International, the Knowledge Institute for Integrative & Complementary (Nursing) Care
Madeleine is a former RN. As a nurse, she gained a passion for a more holistic approach. This lead to her studies into complementary therapies in addition to existing care. After leaving the hospital Madeleine had a private practice for many years, and gradually started training nurses and health care professionals in complementary nursing care techniques as well.
Now, over 25 years later, she is a highly respected expert and world renowned educator  in Clinical Aromatherapy (AromaCare), AquaCare and other complementary therapies, specialised in the care for the frailest patients and elderly, in oncology, in palliative and end of life care. Her calling is to help integrate complementary therapies in mainstream health care. She is a frequently asked speaker at conferences for professionals in health care.
Madeleine is accredited by the Board of Nursing's Quality Registry, and a member and advisor to the Dutch Nurses Society, Palliactief (NL) and the Herbalist Guild (Advisor of Education), as well as being a member of IFPA (UK), the American Holistic Nurse Association, AIA USA (and on the Education Committee), IAAMA, NAHA USA (and approved CE Provider), and other professional organisations.
She is a Fellow of ICAN, the International Clinical Aromatherapy Network.
Madeleine teaches at the Nurses program of Erasmus Academy and at the HAN University of Applied Sciences.
She is the author of the guideline Aromacare for the respected Dutch National Cancer Website Kanker.nl and of the guidelines Aromacare and Aquacare within the Dutch National Palliative Care guidelines (2023).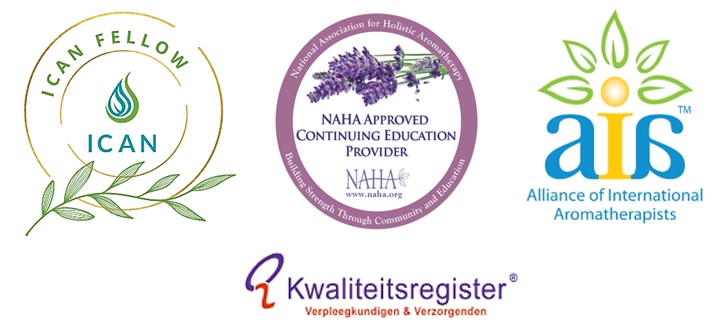 Madeleine is the author of two highly acclaimed books: "Complementary Nursing in End of Life Care" (2015),  and "CO2 Extracts in Aromatherapy, 50+ Extracts for Clinical Applications" (2018). In 2020 she published a Dutch book on clinical aromatehrapy.
This book has been translated into English in 2023. It is expanded, updated and features many extra pages on elderly care and cancer care:
Clinical AromaCare, Aromatherapy in Health Care & Practice (May 2023).
Madeleine also publishes papers en case studies in national and global professional journals.
She feels very passionate about adding quality of life and dying to patients and helps health care professionals to achieve that by offering them safe and science based tools to add to their tool kit with the help of natural aromatics, touch, relaxation and AquaCare techniques for optimum comfort and care.
She is also the chair of De Levensboom Foundation which is a registered charity in palliative care that supports vulnerable patients by providing nurses, hospitals, aged care facilities and hospices in several ways.  Her work and generosity is highly valued and regarded in health care throughout the Netherlands and beyond. She was commended by Her Excellency the President of Malta in 2018 for her support to the National Maltese Cancer Fund.
Madeleine was also one of two nominees of the Lifetime Achievement Award (2019) of the Alliance of International Aromatherapists (USA).
She feels Kicozo wouldn't be where it is today without its wonderful team of like minded and equally passionate teachers and colleagues.  Also, Madeleine feels she wouldn't be who she is today without her loving partner Kees Kerkhof, and dear friends and esteemed colleagues around the globe.
Madeleine teaches in Kicozo's campus in The Netherlands where she heads a team of tutors, and travels the world, both personally and online, to train nurses and health care professionals in clinical aromatherapy (AromaCare), and other clinical complementary (nursing) techniques to enhance quality of life for patients and their loved ones.
Interview with Madeleine in October 2020 by Melani Kovac, (creator of DropSmart, excellent online support system for aromatherapists). The approx. 30 minutes reflect Madeleine's great passion for safe AromaCare for vulnarable patients:
https://www.dropsmith.com/interview-madeleine-kerkhof/?fbclid=IwAR2uPs2hlDwGJ9edQFQtZstywuJe3Z8OkFqP4z1h0BPinSS_1VcEaLrIDI0
You can order reruns of this seminar with information on Madeleine and many of her peers at https://www.blendingsecrets.com/new-landing-page?fbclid=IwAR2SzArvmQ2t5AClhi_FNwROAYunDMP2VG3_7PG3hmzxGSfffs5AlB_ifio