Ginger CO2-total & Copaiba excellent for pain
© Madeleine Kerkhof, 2019
Important topic in health care – pain.
The year 2018 was a busy year. One of the important topics I addressed in my talks and courses was pain, and how different aspects of pain influence patient wellbeing in different settings.
Think of my post conference workshop Fusion AromaTherapy™ in Motion, a day devoted to everything that took participants on a fragrant journey into all aspects of movement and inspire them to choose those aromatics that can help relieve pain and inflammation of the musculoskeletal system such as rheumatic inflammations, fibromyalgia, muscle pains, restless legs, spasms, but also neuropathic pains. Being stuck in motion most often does involves more than just the physical aspects of musculoskeletal complaints. Patients can have issues that block them from moving forward on an emotional and spiritual level as well.
In Hong Kong in 2018 I focused on a much appreciated sector of health care: the elderly, with my program Fusion AromaCare™ & Pain Management for the Elderly.
People in pain deserve our full and undivided attention. Pain is always present when patients say it is, and experienced as strong as patients  say it feels to them. In my opinion we need to adopt a broad and multidisciplinary approach to patient s with pain and support them in a true holistic way, integrating standard and mainstream care with complementary and alternative approaches. I always opt for integrative care, with a role for each (preferably well-founded!) successful treatment modality, ranging from aromatherapy to herbal medicine, meditation, guided imagery and other mind-body-techniques to touch and AquaCare, and entirely adjusted to the individual patient.
The Pain Model of Loeser
In my courses I like working with the Model of Loeser, who pictured the different dimensions of pain into circles. First there is the nociception (the pain stimulus), followed by the pain, pain suffering, and followed by pain behaviour. Loeser uses circles of different sizes to express how variable the experience and behaviour can be for each person.
The nociception could be very small, yet the behaviour dramatic, but the reverse also occurs. There are people that we feel must be in horrendous pain, but they don't show it.
The treatment of pain can be focused on the nociception and the causes, i.e. inflammation. But in some people treating the cause is very difficult – think of cancer care – but we could focus on empowering them mentally and emotionally buy addressing the perception and suffering.
Using aromatherapy can be an extremely powerful tool for the treatment of all dimensions of pain.
For courses on Pain management, focused on true holistic (nursing) care for people in pain, please visit Kicozo's Global Calendar at https://www.kicozo.info/scholingen/professionals/calendar-global-activities-kicozo/ for dates and venues (it will link through to the course contets too).
Gember CO2-total and Copaiba EO –  powerful for pain management
In my courses I discuss a range of valuable essential oils and CO2's for pain management. Ginger CO2-total and Copaiba have given excellent results. Please find relevant information below, and relevant references at the bottom of this blog. I hope to inspire you to adopt them in your treatment protocols too. If you need more information on these and other aromatics, you are welcome to attend one of my specialized courses and workshops.
Ginger (Zingiber officinale) CO2-total
CO2-total extract of the root stock
Possible relevant indications:
Rheumatic joint pains, morbus Bechterev, fibromyalgia, stiffness and soreness of muscles and ligaments, spasms, restless legs, (nightly) leg cramps, (imminent) contractures, (deep) pains of bones, joints, muscles, pains in osteoporosis, tumour pains;
Assisting relief of rigor in Parkinson(ism);
Abdominal pains and cramps;
Menstrual pains;
Nausea surrounding migraines (and for any other cause of nausea);
Inner and outer cold;
Loneliness, emotional and spiritual blockages and pains.
Distilled oil (or CO2-select) versus CO2-total extract of Ginger root
Although other extracts for topical use can be valuable to promote circulation and warmth, there is no comparison really when it comes to addressing (deep) pains and cramps. Ginger CO2-total is the only one containing shogaol and gingeroles that inhibit 5-HT3 receptor activity (1).
Apart from that the Ginger CO2-extracts has a powerful fragrance, much like cutting a fresh ginger root, which will appeal to a need of warmth and the flow of energy in case of emotional and spiritual blockages, that can play an important role in pain perception and behaviour.
Motion
Study on the modus operandus of ginger has shown its significant anti-rheumatic action and anti-inflammatory properties, especially through cox-2-enzyme inhibition (2, 3, 4, 5).
Ginger is warming and circulation promoting for muscles, joints and ligaments. I use it for imminent contractures, deep rooted pains of bones and joints, spasms and cramps – of any nature and cause (6, 7, 8, 9, 10, 11).
To ingest or not to ingest – is that the question?
When you read some of the studies, many point out the benefits of oral intake through teas or herbal supplements. And that's fine, as long as safety is your first priority. Do not "mix" ginger CO2-total with a glass of water… You could – given that you're well trained in aromatic medicine and observe the contra-indications, add the extract to sesame oil or olive oil and administer through a capsule. Yet, more often you can use it topically very successfully and combine its effect with the benefits of massage. Patients can also be taught to use it on themselves. They usually know where they feel their pain the most and will be given the chance to be self-reliant.
And actually, there is evidence that shows that ginger is well absorbed by the skin (12), and I have excellent results with topical application.
Abdominal pains
Experience shows that blending ginger CO2-total with a suitable vegetable oil (such as my favourite organic white sesame oil) alone or combined with other cramp relieving, warming and relaxing essential oils or CO2's can bring great relief to painful tummy's, especially bowel pains (13). Werner (2009) mentions psychosomatic abdominal complaints. Also think of adding ginger CO2-total to blends for menstrual pains (14).
General dosage advise CO2-total extract:
Diffuse one or a few drops on a tissue or diffuser, or add to an inhaler stick (20-25 drops) or AromaPatch™ in max 3-4 drops. This is mostly suitable for emotional and spiritual sides of pain or lack of warmth and comfort.
Usual skin applications for adults, depending on severity of the complaint and sensitivity of the skin is 0.5-2%. On local small areas your options are broader, but do take caution, because ginger CO2-total can be pungent. This approach fits pains and stiffness, spasms, promotes circulation and helps in a lack of physical and emotional warmth.
Bathing*: foot soak 2-5/ sitz bath 3-6/ full bath max. 10 drops.
Use appropriate dilutions / dosages for the elderly, children and in pregnancy. All depends on age, extend of the treatment areas and individual assessment details. You can ask me advise for specific situations.
Contra-indications & specifics:
Caution in very sensitive skin. Carefully outweigh pro's and con's.
*Ginger CO2-total is powerful and will be more so in a warm bath. Do not exceed the given dosage advise for adults.
Ginger could possibly enhance the effect on blood thinning medication, yet evidence is thin, especially in topical use.
Avoid in febrile conditions, on a hot and inflamed area and in case of lymph-edema of the treatment site.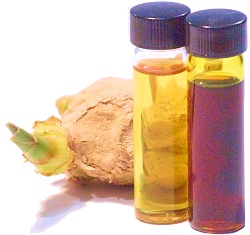 Copaiba (Copaifera officinalis)
Distilled resin
Possible relevant iindications:
(Rheumatic) joint pains and inflammations, fibromyalgia, stiffness and soreness of muscles and ligaments, spasms, (imminent) contractures;
Neuralgia's, peripheral neuropathy, trigeminal nerve pain, pains after surgery in nerve rich areas, neuro-inflammation i.e. in MS, allodynia after treatment with paclitaxel;
Pains after injuries and blunt trauma;
Trauma of physical, emotional and spiritual kind;
Family processes related pains and trauma;
Emotional and spiritual pains.
Gentle fragrance
This essential oil has a pleasant, almost sweet, scent which is very pleasant for those sensitive to stronger fragrances or stimuli, which can be natural to the person, or occur after trauma.
Trauma
I worked with copaiba for a while, when I met Carla Vescovi, a wonderful Brazilian therapist who uses copaiba to help the healing process for those suffering from family related trauma. I experienced first-hand how powerful copaiba can be to open up deep rooted pains and how soothing copaiba can be. I use it in rituals with meditations and guided imagery to give TLC to painful and sore memories and wounds in ourselves.
Pain power
Copaiba mainly consists of sesquiterpenes, with a high level of β-caryophyllene (58%). This interesting constituent is a highly active cannabinoid receptor agonist, anti-inflammatory, analgesic and has neuro-protective properties (15, 16, 17). The compound has shown significant relief in neuropathic pains (18, 19, 20). Apart from β-caryophyllene, copaiba contains α-copaene, β-elemene, α-humulene en germacrene D.
Nerve inflammations and pains treated successfully
Very recently, copaiba in a blend with myrrh (Commiphora myrrha) essential oil on my standard MucoCare original blend for mouth pains, performed excellent in treating a massive neuro-inflammation of a tooth and the jaw and trigeminal nerve connected to it.
The anti-inflammatory properties of copaiba are impressive, even 3,4x more effective than diethyl ammonium diclofenac cream gel. Copaiba also enhances the effect and absorption of the anti-inflammatory celecoxib (21, 22, 23, 24).
I'm treating a patient suffering from peripheral neuropathy after receiving taxane treatment for cancer successfully for her pains with a blend in which copaiba plays a major role.
Blend
Think of combining copaiba essential oil with other aromatics such as helicrysum, ginger CO2-total, sweet marjoram, myrrh, Siberian fir sub CO2, black pepper, lavender or geranium for instance.
General dosage advise:
Diffuse one or a few drops on a tissue or diffuser, or add to an inhaler stick (20-25drops) or AromaPatch™ in max 3-4 drops. This is mostly suitable for emotional and spiritual sides of pain or trauma.
Usual skin applications for adults, depending on severity of the complaint and sensitivity of the skin is 1-3%. On local small areas you could dose quite a bit higher. This approach fits neuralgia's, pains of joints, bones, muscles, painful wound(s) (edges) or painful mouth issues.
Bathing: foot soak 2-3/ sitz bath 2-4/ full bath max. 5 drops.
Use appropriate dilutions / dosages for the elderly, children and in pregnancy. All depends on age, extend of the treatment areas and individual assessment details. You can ask me advise for specific situations.
Contra-indications & specifics:
Can irritate this skin when used for long periods of time in higher dosages. A treatment period of max 3 months and rotating treatment with other oils is advised on chronic and long standing pains.
General caution
Be or become, or ask guidance of, an expert in the treatment of the seriously ill, vulnerable elderly persons, in pregnancy or the treatment of children before using essential oils and CO2's.
Have a great day!
Madeleine Kerkhof.
References:
Abdel-Aziz H, Nahrstedt A, Petereit F, Windeck T, et al. 5-HT3 receptor blocking activity of arylalkanes isolated from the rhizome of Zingiber officinale. Planta Med. 2005 Jul;71(7): 609-16.
Janet et al. Comparative Effects of Two Gingerol Contaning Zingiber officinale Extracts on Experimental Rheumatoid Arthritis. J Nat Prod 2006.
Ghasemian M., Owlia S., Bagher Owlia M. Review of Anti-Inflammatory Herbal Medicines. Adv Pharmacol Sci. 2016; 2016: 9130979. Published online 2016 May 10. doi: 1155/ 2016/9130979. PMCID: PMC4877453.
Justo OR, Simioni PU, Gabriel DL, Tamashiro WM. Evaluation of in vitro anti-inflammatory effects of crude ginger and rosemary extracts obtained through supercritical CO2 extraction on macrophage and tumor cell line: the influence of vehicle type. BMC Complement Altern Med. 2015 Oct 29;15:390. doi: 10.1186/s12906-015-0896-9.
Shen CL, Hong KJ, Kim SW. Effects of ginger (Zingiber officinale Rosc.) on decreasing the production of inflammatory mediators in sow osteoarthrotic cartilage explants. J Med Food. 2003 Winter; 6(4):323-8.
Bartels EM, Folmer VN, Bliddal H et al. Efficacy and safety of ginger in osteoarthritis patients: a meta-analysis of randomised placebo-con-trolled trials. Osteoarthritis Cartilage 2015 Jan;23(1):13-21. doi: 10.1016/j.joca.2014. 09.0246).
Funk Janet L., Frye Jennifer B., Oyarzo Janice N., et al. Comparative effects of two gingerol-containing Zingiber officinale extracts on experimental rheumatoid arthritis. J Nat Prod. 2009 Mar 27;72(3):403-7. doi: 10. 1021/ np8006183.
Jeena K, Liju VB, Kuttan R. Antioxidant, anti-inflammatory and antinociceptive activities of essential oil from ginger. Indian J Physiol Pharmacol. 2013 Jan-Mar;57(1):51-62.
Funk JL, Frye JB, Oyarzo JN, Chen Jet al. Anti-Inflammatory Effects of the Essential Oils of Ginger (Zingiber officinale Roscoe) in Experimental Rheumatoid Arthritis. PharmaNutrition. 2016 Jul;4(3):123-131. Epub 2016 Jun 4.
Lakhan SE, Ford CT, Tepper D. Zingiberaceae extracts for pain: a systematic review and meta-analysis. Nutr J. 2015 May 14;14: 50. doi:10.1186/s12937-015-0038-8.
Sritoomma N, Moyle W, Cooke M, O'Dwyer S. The effectiveness of Swedish massage with aromatic ginger oil in treating chronic low back pain in older adults: a randomized controlled trial. Complement Ther Med. 2014 Feb; 22(1):26-33. doi: 10.1016/j.ctim.2013.11.002. Epub 2013 Nov 12.
Minghetti et al. Evaluation of the topical anti-inflammatory activity of ginger dry extracts from solutions and plasters. Planta Med. 2007 Dec; 73 (15):1525-30.
Riyazi A, Hensel A, Bauer K, Geissler N, et al. The effect of the volatile oil from ginger rhizomes (Zingiber officinale), its fractions and isolated compounds on the 5-HT3 receptor complex and the serotoninergic system of the rat ileum. Planta Med. 2007 Apr;73(4):355-62.
Myung-Haeng Hur, Myeong Soo Lee, Ka-Yeon Seong, Mi-Kyoung Lee. Aromatherapy Massage on the Abdomen for Alleviating Menstrual Pain in High School Girls: A Preliminary Controlled Clinical Study. Evid Based Complement Alternat Med. 2012; 2012: 187163. Published online 2011 Sep 22. doi: 1155/2012/ 187163. PMCID: PMC3178179.
Fidyt K, Fiedorowicz A, Strządała L, Szumny A. β-caryophyllene and β-caryophyllene oxide-natural compounds of anticancer and analgesic properties. Cancer Med. 2016 Oct;5(10):3007-3017. doi: 10.1002/cam4.816. Epub 2016 Sep 30.
Alberti TB, Barbosa WL, Vieira JL, Raposo NR, et al. (-)-β-Caryophyllene, a CB2 Receptor-Selective Phytocannabinoid, Suppresses Motor Paralysis and Neuroinflammation in a Murine Model of Multiple Sclerosis. Int J Mol Sci. 2017 Apr 1;18(4). pii: E691. doi: 10.3390/ijms18040691.
Sain S, Naoghare PK, Devi SS, Daiwile A, et al. Beta caryophyllene and caryophyllene oxide, isolated from Aegle marmelos, as the potent anti-inflammatory agents against lymphoma and neuroblastoma cells. Antiinflamm Antiallergy Agents Med Chem. 2014 Mar;13(1):45-55.
Segat GC, Manjavachi MN, Matias DO, Passos GF, et al. Antiallodynic effect of β-caryophyllene on paclitaxel-induced peripheral neuropathy in mice. Neuropharmacology. 2017 Oct;125:207-219. doi: 10.1016/j.neuropharm.2017.07.015. Epub 2017 Jul 18.
Santos NA, Martins NM, Sisti FM, Fernandes LS, et al. The cannabinoid beta-caryophyllene (BCP) induces neuritogenesis in PC12 cells by a cannabinoid-receptor-independent mechanism. Chem Biol Interact. 2017 Jan 5;261:86-95. doi: 10.1016/j.cbi.2016.11.015. Epub 2016 Nov 18.
Klauke AL, Racz I, Pradier B, Markert A et al. The cannabinoid CB₂ receptor-selective phytocannabinoid beta-caryophyllene exerts analgesic effects in mouse models of inflammatory and neuropathic pain. Eur Neuropsychopharmacol. 2014 Apr;24(4):608-20. doi: 10.1016/j.euroneuro.2013.10.008. Epub 2013 Oct 22.
Quiñones OG, Hossy BH, Padua TA, Miguel NCO, et al. Copaiba oil enhances in vitro/in vivo cutaneous permeability and in vivo anti-inflammatory effect of celecoxib. J Pharm Pharmacol. 2018 Jul;70(7):964-975. doi: 10.1111/jphp.12906. Epub 2018 Mar 29.
Quinones OG, Abranches RP, Nakamura MJ, de Souza Ramos MF, et al. Copaiba Oil: Chemical Composition and Influence on In-vitro Cutaneous Permeability of Celecoxib. Curr Drug Deliv. 2018;15(3):357-366. doi: 10.2174/1567201814666170825154453.
Teixeira FB, de Brito Silva R, Lameira OA, Webber LP, et al. Copaiba oil-resin (Copaifera reticulata Ducke) modulates the inflammation in a model of injury to rats' tongues. BMC Complement Altern Med. 2017 Jun 14;17(1):313. doi: 10.1186/s12906-017-1820-2.
Barbosa MMC, Vicentini FA, Castro-Ghizoni CV, Lameira OA, et al. Copaiba Oil Decreases Oxidative Stress and Inflammation But not Colon Damage in Rats with TNBS-Induced Colitis. Endocr Metab Immune Disord Drug Targets. 2018;18(3):268-280. doi: 10.2174/1871530318666180215102029.