Don't miss this chance to deepen your knowledge on clinical aromacare
with the latest evidence and experience based information, cases & recipes
Kicozo's books, written by globally respected expert Madeleine Kerkhof, are your ideal partner in gaining knowledge, the latest scientific data and insights, and of course a wealth of inspiration to enrich your care with non-pharmacological treatment options, and to enhance quality of life and health care.
Aromacare, or aromatherapy, has shown to be of great added value to those in the medical and nurses field, and in general or specialist therapeutic practice. Working with essential oils, CO2's and related aromatics as part of integrative patient care requires knowledge and skill. The need for education and advice for safe and practical use is therefore increasing, as is the demand for sharing experiences through case reports and studies.
To ensure efficacy and wellbeing, optimal comfort and of course safety for vulnerable patients it is imperative to be well informed and equipped with the latest insights.
Perhaps taking a course (although at Kicozo we offer online training globally as well as in person education) is not on your path right now. In that case, or as a support for your existing knowledge and skills in aromatherapy, this book was written.
Madeleine's lovely friend and colleague Elizabeth Ashley Starns has honoured her work, not only with a brilliant piece on melissa, but also with a wonderful tribute to it on her YouTube channel:
https://m.youtube.com/watch?fbclid=IwAR3LKEiFnxGqCSylHdtNLvEgZLuzWExupvyVlF9O9aRV4hyqI0pfItAFMEc&v=tstx7HeZPGw&feature=youtu.be
Madeleine Kerkhof, the author:
"I have written this book especially for you, as a healthcare professional whose passion it is to offer holistic care in their setting, to inspire you to use essential oils and other aromatics, including CO2 extracts in a safe and beneficial way for a variety of health care issues. This may be pain, nausea, skin, wound and oral care, for lungs and airways, for restlessness, anxiety and stress.
In this day and age, I feel we need to nourish and support all aspects of health and wellbeing, on a physical, emotional, mental, social and spiritual level. With this book I offer you aromatic tools to do that".
This thoroughly referenced book will offer you:
comprehensive basic knowledge on aromacare – aromatherapy in chapter 1.
quality, chemistry and safety in chapter 2
guidance along a diverse range of administration routes, the Clinical Reasoning model and assessment tools, Madeleine's views on current general research, toped up with a clever conversion table for formulation and dosing, in chapter 3
a deep dive into the world of scent perception and its influence on our emotions and the efficacy of aromatic treatments for a variety of patient groups, in chapter 4
Madeleine's favourite base oils, including CO2's used as such, and other base compounds *1 in chapter 5
Madeleine's favourite ssential oils and CO2 extracts used as such *2 in chapter 6
a whole chapter (7) featuring Specials on different topics, illustrated with compelling case stories, and suggestions for recipes, that provide inspiration on themes such as Anxiety, Stress and Agitation, Dementia Care, Sleep, Pain, Nausea, Oral Care and Digestion including Nausea and Constipation, on Skin and Wound Care, the Lungs and Respiratory Tract, Haematomas, Lines and Catheters, a large Special on Cancer Care, the basics of AquaCare and added protocols for practical application
advice on implementation, writing case reports and initiating research in chapter 8
building bridges – inspiring  contributions on cases and aromatics from colleagues around the globe
and illustrated further by countless studies, facts and figures, and of course by numerous photo's.
Sales information:
ISBN number is 978-9-081767-48-4.
Price normally 79,95, now temporarily 72.95 euro excl. packaging & postage.
Available from the author (shipped world wide*) and Nature's Gift (USA)
Order through info@kicozo.nl. You will receive a payment link. Upon reception of your payment we will get it out to you as soon as possible. 

If you order directly from Madeleine, you can request her to will sign your copy personally.

* we will not send anything to some countries in the world, notably those in severe conflict and/or where postal services are disrupted or inadeqaute. In those cases you may wish to have it sent to a (more) trustworthy address.
Clinical Aromacare, list of aromatics discussed
*1 Base oils and other compounds – chapter 5

Almond oil, sweet (Prunus dulcis var. dulce)
Argan oil (Argania spinosa)
Avocado oil (Persea gratissima americana)
Borage oil or CO2-total extract (Borago officinalis)
Calendula CO2-total extract (and macerate – Calendula officinalis)
Clay (Kaolin)
Coconut oil (Cocos nucifera)
Dead Sea Salt
Evening primrose CO2-total extract (Oenother biennis)
Jojoba (Simmondsia chinensis)
Neutral base cream & bath oil or emulsifier
Olive oil (Olea europaea)
Pomegranate oil or CO2-total extract (Punica granatum)
Rosehip CO2-total extract (Rosa canina, R. moschata)
Sea Buckthorn CO2-total pulp and seed Extracts (Hippophae rhamnoides)
Sesame oil (Sesamum indicum)
St. John's wort infused oil (Hypericum perforatum)
Tamanu (Calophyllum inophyllum)
Wheat germ oil (Triticum aestivum)

*2 Clinical aromacare essential oils & CO2's used as such – chapter 6

Bergamot (Citrus aurantium ssp. bergamia)
Buddha Wood (Eremophila mitchellii)
Caraway (Carum carvi)
Cardamom (Elettaria cardamomum)
Chamomile
-> Chamomile, German (Matricaria recutita)
-> Chamomile Roman (Anthemis nobilis)
Cinnamon
-> Cinnamon bark (Cinnamomum zeylanicum and C. burmanii)
-> Cinnamon Leaf (Cinnamomum zeylanicum)
Clary Sage (Salvia sclarea)
Cloves (Syzygium aromaticum)
Copaiba (Copaifera officinalis)
Coriander (Coriandrum sativum)
Cypress (cypress) (Cupressus sempervirens)
Eucalyptus
-> Eucalyptus, Wild (Eucalyptus globulus)
-> Eucalyptus smithii
-> Eucalyptus radiata
Fir, Siberian (Abies sibirica)
Frankincense
-> Frankincense – Olibanum, Indian (Boswellia serrata)
-> Frankincense – Olibanum, Somali (Boswellia carterii)
Geranium (Pelargonium graveolens)
Ginger (Zingiber officinale)
Helichrysum (Helicrysum italicum)
Ho-leaf (Cinnamomum camphora ct. linalool)
Lavender
-> Lavender, True (Lavandula angustifolia)
-> High altitude Lavenders – soft and ultimate fragrance
-> Lavandin (Lavandula x spec.)
-> Spike lavender (Lavandula latifolia)
Lemon (Citrus limonum)
Lemongrass (Cymbopogon flexuosus, C. citratus)
Mandarin Orange (Citrus reticulata)
Manuka (Leptospermum scoparium)
Marjoram, Sweet (Origanum majorana)
Melissa – or Lemon Balm (Melissa officinalis)
Myrrh (Commiphora momol)
Myrtle ct cineole (Myrtus communis)
Neroli (Citrus aurantium ssp. amara)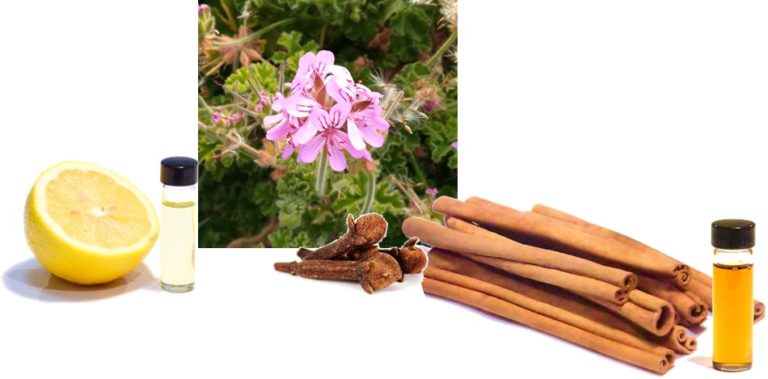 Orange, Sweet (Citrus sinensis)
Oregano (Origanum vulgare)
Patchouli (Pogostemon cablin)
Pepper, Black (Piper nigrum)
-> Pepper, Chili (Capsicum frutescens)
Peppermint (Mentha piperita)
-> Corn mint (Mentha arvensis)
-> Spearmint (Mentha spicata)
Pine, Scots (Pinus sylvestris)
Rose, Damask Rose (Rosa damascena)
-> Rose attar – Gulab attar (Santalum album & Rosa damascena)
Rosemary (Salvia rosmarinus)
Sage, True (Salvia officinalis)
-> Sage, Greek (Salvia frutescens / S. triloba)
Sandalwood (Santalum austrocaledonium, S. spicatum or S. album)
Thyme
-> Thyme, Red (Thymus vulgaris ct. thymol)
-> Thyme ct. linalool (Thymus vulgaris ct. linalool)
Turmeric
-> Turmeric, Indonesian – Javanese – Temulawak (Curcuma xanthorrhiza)
-> Turmeric, Indian (Curcuma longa)
Ylang ylang (Cananga odorata)
And several others are mentioned along the way.