Hong Kong – 中文
(Please find this text in English below)
輔助護理知識研究中心(Kicozo)的訓練課程
Kicozo 是荷蘭最大的醫療保健專業人員輔助護理/治療學校。Kicozo 向護士和其他專業人員,包括香薰治療師、按摩治療師、整全護理人員和其他直接服務病患的專業人士介紹由大自然賦予、最理想的護理方式。Kicozo的優質課程,獲荷蘭註冊護士質素管理局的認證。
坊間有為數不少的輔助療法學校,Kicozo高度專注於腫瘤病患、紓緩治療、臨終關懷、長者護理和精神病患的護理工作。為在寧養中心、療養院、日間護理中心、醫院、上門或私人執業的專業人員提供訓練。
輔助護理知識研究中心(Kicozo)香港分校
Kicozo不僅在荷蘭提供豐富的課程,我們到訪全球各地,為有興趣人士/或組織主辦會議和講座,當然還包括由一天到數天的課程。Kicozo的教育專家Madeleine Kerkhof最近就在香港、法國、英國和美國講課。
輔助護理知識研究中心(Kicozo)香港分校在今年十月(2017年)正式成立,由經驗豐富的初級導師Kaman Cheung(右下圖)負責領導我們的導師團隊,在亞洲區提供Kicozo的課程。 Kicozo將在美國進行舉辦更多課程,與經驗豐富和訓練有素的導師合作。最新消息將在此頁面公佈。
我們很樂意根據您的需求調整我們的課程,確保你和/或你的同工/學生能立即把我們的知識和新技能付諸實踐。
請聯繫我們,讓我們共同努力,為弱勢群體提供他們應得的、更佳的生活質素。
Training at Kicozo International
Kicozo is the largest school in integrative and complementary care / therapies for professionals in health care (facilities) in The Netherlands. Kicozo offers nurses, nurses aids, physicians, physiotherapists, social workers, but also other professionals, such as aromatherapists, massage therapists, holistic health care workers and other professionals in direct contact with their patients / clients the best nature has to offer.
These professionals can work in the facility (hospices, nursing homes, day care centres, hospitals), home care or have a private practice.
Kicozo is accredited by the Dutch Quality Register of Nurses for its high quality education.
Of course there are other schools in complementary therapies, but Kicozo is highly specialised in:
Oncology
Palliative & End of Life Care
Pain Management
Care for the Elderly and people with Psychogeriatric diseases
Oral, Skin and Wound Care
CO2 Extracts in Clinical AromaTherapy
Kicozo global
Kicozo offers more than just great course programs, of course also in English, in The Netherlands. We work worldwide and are happy to come to you and/or your organisation for conference lectures and workshops, and of course courses from one to multiple days.
Madeleine Kerkhof, Global Director of Kicozo, teaches in Hong Kong, China, Taiwan, France, Australia, the UK and USA. Madeleine is a Former Nurse, now an Expert and Educator Clinical Aromatherapy & Complementary Therapies, Founder of Kicozo, Advisor of the Dutch Nurses Association for Complementary Nursing, Member of Dutch Nurses Society, Palliactief and other bodies in palliative and dementia care; IAAMA, AIA, NAHA, and the American Holistic Nurses Association. She is a world renowned educator and speaker, and Author of "Complementary Nursing in End of Life Care" (2015) and "CO2 Extracts in Aromatherapy, 50⁺ Extracts for Clinical Applications" (2018).
Kicozo Hong Kong – Kaman Cheung
In October 2017, Kicozo Hong Kong was launched, with experienced primary teacher Kaman Cheung, who will be heading a team of teachers to teach our program in Asia.
Kaman is Clinical Aromatherapist and (Oncology) Massage Therapist at Haven of Hope Causeway Bay Centre. She is also Tutor of Kicozo.
Kaman teaches Kicozo's Basic AromaCare Program – English/Chinese, offering nurses and other health care professionals all they need to know to start simple, yet safe and effective ways of using essential oils and other aromatics within AromaCare (aromatherapy) into their daily practice.
These 3-day courses Basic AromaCare will take place in Hong Kong on:
September 6, 7 and 8, 2019.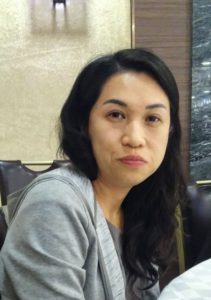 Further specialised education
Our Basic AromaCare Program is a wonderful start, and also a great preparation to courses by Kicozo to further deepen and broaden their horizon on highly specialised subjects, such as:
Pain Management for the Elderly (2 days in December 2018 – English/Chinese, Hong Kong Campus);
Oncology (3 days 25-26-27 October 2019 – English/Chinese, Hong Kong Campus);
CO2 Extracts in Clinical Aromatherapy (2 days Mid October 2020 – English/Chinese, Beijing, China).
Palliative Care (3 days Mid October 2020 – English/Chinese, Beijing, China).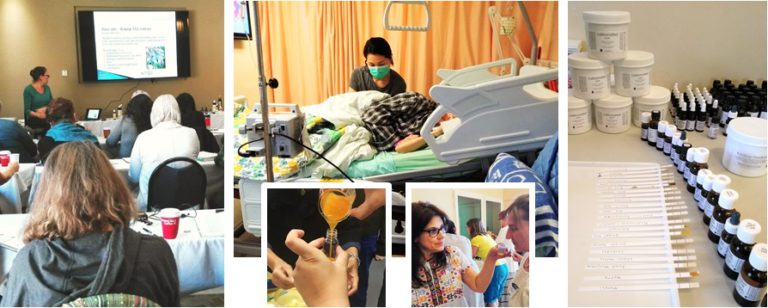 For in company courses at your health care facility, we'll be happy to adjust our program to your needs and those of the health care facility you may work with / for, to make sure you and/or your staff / students will put our knowledge and their new skills into practice immediately.
Please contact us to see how we can work together to offer your vulnerable patients the extra special quality of life they so deserve.