Masterclass Fusion AromaTherapy™ in Elderly & Dementia Care
Masterclass with Madeleine Kerkhof
in The Netherlands & Live Streamed
Are you a professional in health care, especially interested in care for the elderly, and already equipped with basic knowledge on Aromatherapy?
Are you looking for specialist knowledge on how essential oils and CO2 extracts can be of significant benefit the elderly and those suffering from dementia?
Are you keen on helping to relieve pain, depression and unrest, and other symptoms that stand in the way of their quality of life?
Are you passionate about offering our elderly the best AromaCare has to offer and help nurture, care for and comfort them?
Are you looking for the ideal combination of state of the art knowledge, discussing cases and gaining practical skills?
Are you willing to give yourself and your clients / patients this gift of intensive studies that will contribute to your practise?
Would you like to learn from one of the worlds leading aromatherapy educators in her fields of expertise Madeleine Kerkhof?
If the answer to these questions is "yes", Madeleine and Team Kicozo would love to meet you.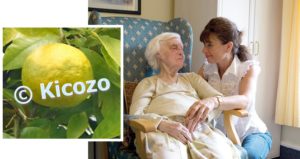 Specifics:
This Masterclass is open to (clinical) aromatherapists, as well as massage therapists and nurses with basic aromatherapy knowledge, provided you (also) speak English. This Masterclass is specially designed to offer tools for health care professionals that work with the elderly and in dementia care.
Kicozo's classes are always a combined and holistic approach to health and sickness. We look at the standard medical, nursing and therapeutical care, as much as the complementary approach. We also give background information on the typical discomfort and diseases that are often found in the elderly.
In this Masterclass we will explore some – often complex – health care issues that can accompany aging and will especially look at the very old, and those suffering from dementia and other psycho-geriatric diseases.
We always offer concise background information and build bridges to standard care, where safety is a high priority.
We look at several different types of pain that are more specific in the elderly. Think of rheumatic diseases, stiffness of joints and muscles, neuropathic pains (such as peripheral neuropathy, or after a shingles infection). There is attention to optimum skin care for the dry and papery skin, tears and wounds, and oral care or course.
And naturally much attention is paid to influencing mood and overall wellbeing with AromaCare, AquaCare and touch. Think of treatment options for unrest and agitation, anxiety, concentration, depression, sleep issues.
You will learn about the science behind essential oils and base oils, and also how important especially CO2 extracts with their unique fragrance profiles can be in the treatment of issues in elderly care.
Locations & Dates:
To be determined.
Day to day program:
We start with an introduction of students, followed by a deep dive into smell and how scents are connected to autobiographical memories and how this may be of benefit to clients on their journey.
The first class day is devoted to issues such as pain and will blend and work on treatment plans for pain and related issues.
The 2nd day will be your day off, or you can join a fascinating excursion to an urban herbal garden, followed by dinner in a unique restaurant (all Covid permitting).
The 3rd day is devoted to oral care, skin and wound care and other challenging symptoms.
The 4th day is themed at emotional and spiritual wellbeing, and we will close with specific themes around the very end of life for clients and their loved ones.
General information:
This course is open to aromatherapists or complementary therapists, as well as nurses or other health care professionals, provided you (also) speak and/or understand English and have basic aromatherapy knowledge and skills.
Course fee:
For the whole package, excluding excursion, course fees are …. euro p/p. This includes hand-outs, highest quality aromatics to work with, blending of products, lunch/light meal and snacks during course day, certificate of attendance, link to recorded course days.
The excursion, including transport, garden tour, lunch and dinner will be around …. euro.
Live Stream (and recorded):
Course fees are …. euro.
For the 4 course days you may apply to participate through live stream (and rewatch the recordings later). A comprehensive course pack and certificate of attendance will be sent to your home after class.
Please find Kicozo's complete program around the globe at: https://www.kicozo.info/scholingen/professionals/calendar-global-activities-kicozo/